Exciting days ahead for my blog! I am co-hosting Find + Follow Friday with Nicole from
Me + The Moon
. If you aren't one of the lucky ones to have read her blog, check her out now!
The Happenings Lately...
I assure you, I have got some exciting home projects in the works too! The Mister and I have been working away on these awesome home DIY projects all week! I thought I'd have these pretty before and after pics up here by now, really! We have run into some major hiccups to get everything just right, now we got it all figured out and I'm pretty sure we are pro's in the refinishing business! Anyway, in a couple days, it'll be blog ready! Hence the reason I have been blog M.I.A. but it'll be worth the wait! Luckily for me, hubby-man has been on vacation--he thanks me kindly!
When my supervision hasn't been needed, I've been pouring myself into some major Spring-cleaning! I have cleaned walls, appliances, planted flowers, and made a penny ball for my garden in the planting process! I have hydrangeas see, and rumor has it that copper keeps away slugs and keeps your hydrangeas blue! I'll take that! Here's how I did it--
My Uncle's name is Dale, so I like this ball!
For all my fellow OCD friends, YES--all the pennies are heads up!
I went to the thrift store here in town and found a super cheap bowling ball, $2.49, came complete with the bag I didn't need or want. Then I round up all my pennies and mixed up some epoxy, huge nasty mess! Hours later and tons of pennies (a few dollars worth probably) and I have a penny ball! Eh, it's ok I think. Not as pretty as the one on
Pinterest
.
Then I made a ribbon basket, it's lame!
And I'm not done yet with all the organizing and cleaning fun! I still plan to clean my ceiling fans, recover my dining room chairs, and clean out Zane's clothes (again) which no doubt will make me cry (again)!
This Sunday we had Zane's Easter pics taken! I cannot wait to see them and share them with you!
Last Year, right before the meltdown!
Last year, we had a complete meltdown with the live bunnies! This year--a complete 180! There may be some bunny kissing involved! Stay tuned!
The Link-Up...
Thanks for joining us! So let's get to it:
1. Follow your hosts.
They will be numbers 1 - 4 on the list.
**I try to always follow back, so
PLEASE leave a comment letting me know you're new here so I don't miss you! **
Sometimes it takes a little while, but I always get through every comment and follow back. :) My co-hosts this week are:
Lesley
over at
Mommy in the Making
Melissa
over at
Forever and A Day
+
Sarah-Louise
over at
Life In A Break Down
!
2. Link up your blog's main page.
**No blog hops, please.**
3. Try to stop by at least 3 blogs and follow ones you love.
I'm sure they'd love it if you left a comment, as well :)
4. Take a button!
Sharing is caring :) The more awesome blogs = the more awesome bloggy friends you make.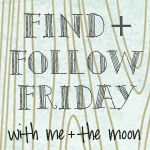 5. Tweet this hop!
Spread the hop love.
I've decided to make this hop every other Friday for the time being-- e-mail me at nmariephoto@gmail.com if you'd like to co-host!